Η εξωτική αυλή των χρωμάτων!
The exotic courtyard of colors!
ΣΥΣΤΑΤΙΚΑ
Κερί φυτικής βάσης από 100% κοκοφοίνικα, αιθέρια έλαια, αρωματικές ύλες, φυτίλι 100% βαμβακερό, χωρίς μόλυβδο. Για εσωτερικό χώρο – μη τοξικό – άκαπνο.
Διάρκεια καύσης +- 45 ώρες.
INGREDIENTS
Natural based palm wax, essential oils, fragrance, 100% cotton wick, lead free. Indoor use, non toxic, smokeless.
Burn duration +- 45 hours.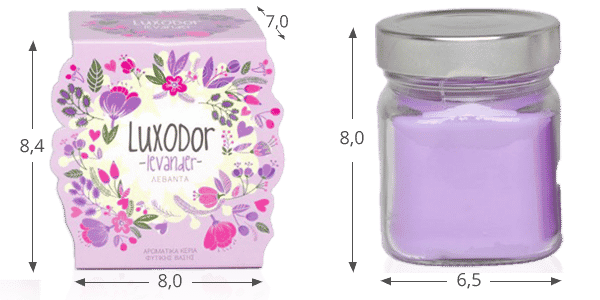 Συνολικό βάρος: 310 γρ.
Καθαρό βάρος: 135 γρ.
Net weight: 135 gr
Total weight: 310 gr
ΠΙΣΤΟΠΟΙΗΜΕΝΑ ΚΕΡΙΑ / CERTIFIED CANDLES


EN: 15493:2019
EN: 15426:2018
Αρώματα της Floral
Λεβάντα
Γκρέιπφρουτ Μανταρίνι
Καρύδα
Πράσινο Τσάι Λουίζα
Βανίλια
Πορτοκάλι Κανέλα
Aromas of Floral
Lavender
Grapefruit Tangerine
Coconut
Green Tea Louiza
Vanilla
Orange Cinnamon